Boost your Rhino workflows and capture the life in your designs
Transform your Rhino models into stunning visualizations
Since its first release in 1998, Robert McNeel & Associates Rhinoceros 3D has become an innovative architectural design tool known for its ability to help architects incorporate polygon meshes, point clouds, solids, surfaces, and NURBS curves into their design workflows.
And with all the standard 3D modeling tools, Rhino makes it possible for architects to give both form and function to their most creative ideas.
With Lumion 3D rendering software for architects, you'll never have to guess what your Rhino design will look like. Lumion conveys the beauty of your Rhino designs by unveiling them in a detail-rich context with beautifully textured materials.
And the best part — Lumion is easy to learn, reducing the time it takes to create images, videos, and 360 panoramas of your most innovative Rhino models.
By pairing your Rhino modeling workflow with Lumion 3D rendering, you can dramatically reduce the amount of time it takes to truly capture the life, beauty, and emotion of your designs.
To use Lumion, all you need to do is import your model and then start shaping the surrounding landscape with reliable, familiar tools. You can dress your building design in high-quality materials that feel real, add interior and exterior objects to show a living environment, and then render a photorealistic or conceptual result.
Real-time rendering for Rhino
LiveSync for Rhino is a free, real-time rendering plug-in that creates a live connection between your Rhino project and Lumion.
In an instant, LiveSync imports your model into Lumion and allows you to work in both programs simultaneously. You can see your design transform in real-time as you make changes to your 3D model and you can quickly gain invaluable insight at any phase of your project.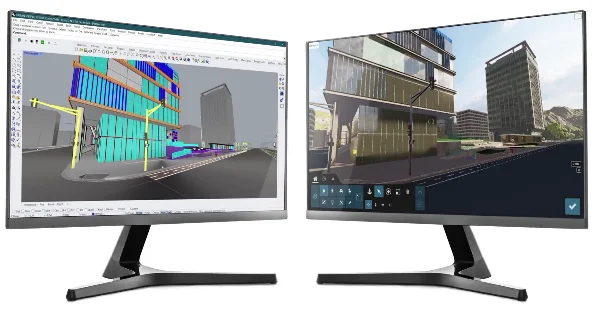 Add Lumion to your workflow
Lumion makes it easy to reveal your designs in their real-life or conceptual setting, while making the visualization process an integral part of the design process.
No matter the type of project you're working on, with Lumion you can:
Render your model in real-time with Lumion LiveSync for Rhino.

Easily show your design in its real-life or conceptual setting.

Make your architectural design feel real with thousands of high-quality materials.

Add context and detail to your project with the largest library of 3D assets.

Convey atmosphere and emotion with incredible rendering effects.

Quickly render images, videos, and 360 panoramas for interactive presentations and VR – at a moment's notice.
"During design development, we're using Lumion as a tool to convey to clients the emotion and feeling about their project, and how it will enhance their lives."

Urban Studio Director, Hollander Design
While we recommend LiveSync for Rhino for an easy and dynamic workflow, you can also export your models from Rhino and then import them into Lumion directly. You can save your Rhino model as a Collada (.dae) file to enable a smoother, faster experience.
For more information regarding Rhino export, please check our model import guidelines.
Did you know that you can reduce the complexity of your model for a faster, smoother 3D rendering experience in Lumion?
Ever wondered why some materials automatically convert to water and glass in Lumion?
No matter what you're trying to accomplish with your Rhino-to-Lumion workflows, you can find helpful information on the Knowledge Base or get in touch with like-minded visualizers and architects from around the world through the Lumion Community.
Bring your structures to life with the greatest ease, in the highest quality
Visualize interior spaces as if they are ready to be lived or worked in
Create lifelike landscapes with details only found in nature itself
An extension of your imagination
With Lumion, you're in control of your ideas. Create stunning visualizations of every angle of your design — at any point in your creative process