Everything you need to know to enjoy
As a 3D rendering program, Lumion is different from other CAD software as it relies primarily on having an excellent graphics card. This is especially important for Lumion's high-end features. Lumion also requires a computer with a fast graphics card with plenty of memory, as well as an internet connection.
Please check the requirements below to find out if your PC can give you a good Lumion experience. You can also find information about where to start if you are looking to purchase a new PC.
Minimum Requirements
Recommended Requirements
High-end requirements
Minimum Requirements
A PC with this hardware is not recommended, as it would only be able to handle simple projects, such as:

A small park or residential building with Lumion models and textures.

Please note that this configuration will not be capable of smoothly handling Lumion's high-end features. We recommend upgrading if you find that your computer is close to these minimum requirements.

Internet connection

The PC running Lumion must be connected to the internet.

Graphics card
Graphics card memory
Operating system

Up-to-date Windows 10 64-bit (version 2004) or newer

CPU (processor)
Screen resolution
System memory (RAM)
Hard drive
Hard drive space

Minimum 75 GB of free disk space in the drives where the Windows User Account and Documents folder are located in.

Power supply
New PC purchase considerations

If you are considering the purchase of a new PC, we do not recommend using these minimum requirements.
To get the most out of Lumion, we recommend to start with our recommended requirements
Recommended Requirements
High-end requirements
For more information regarding computer specs, visit our Knowledge Base article on this subject. Still have questions? You can find many answers to common hardware questions on our System Requirements FAQ.

* Rendering movies in 4K resolution or using RayTracing requires a minimum of 8GB graphics card memory. ** Your screen resolution may be higher than 1920 x 1080; however, this will impact Lumion performance.
Does Lumion work on your current computer?
To see how Lumion will perform on your current PC or laptop computer, you can request to download the free trial and run Lumion's in-program "Benchmark" test.

Lumion will benchmark your computer's Graphics Card, Graphics Memory, CPU and system memory. If any of these components have a red score, you may want to upgrade this component for a better Lumion experience.
Other methods to benchmark your hardware
The free trial is a fairly large download. Alternatively, you can try:
1) find your graphics card
2) search for it on the PassMark website
3) compare your PassMark score with Lumion's system requirements.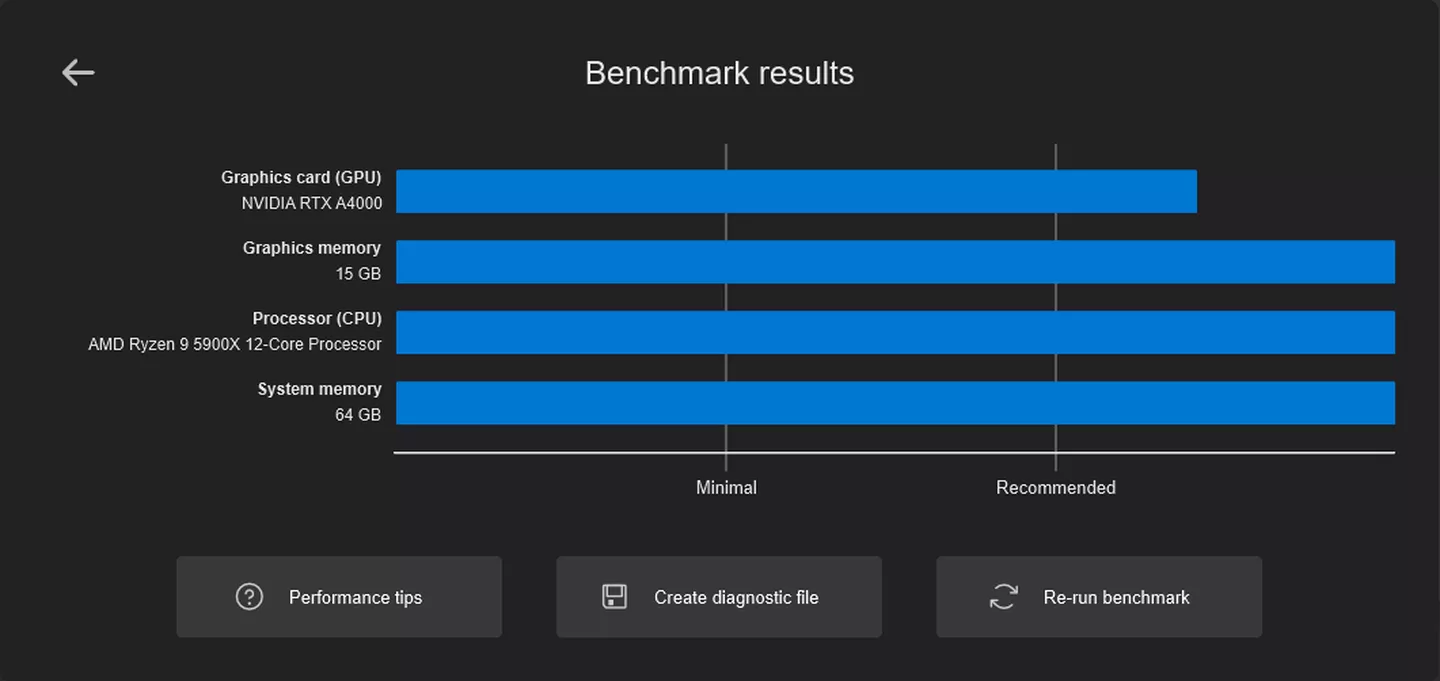 Want a crash course in optimizing software and hardware?
Check out the blog post, "Lumion computer advice for faster 3D rendering" for everything you need to know about optimizing your hardware.
An extension of your imagination
With Lumion, you're in control of your ideas. Create stunning visualizations of every angle of your design — at any point in your creative process.